Breaking News!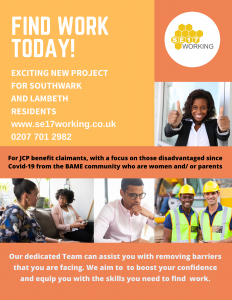 SE17Working has recently been awarded a grant from DWP for an exciting new programme. The programme will offer employability and job brokerage support and training for JCP benefit claimants with a focus on those disadvantaged since Covid-19 from the BAME community who are women and or parents. The funding will be used to engage up to 50 eligible unemployed claimants primarily, from Lambeth & Southwark Boroughs who are in receipt of a means tested benefit which will be either Universal Credit, Jobseekers Allowance, Unemployment Support Allowance or Income Support.
Referrals will be made through Job Centre Plus Work Coaches in the Borough of Lambeth & Southwark which are Kennington Park, London Bridge, Peckham, Streatham & Stockwell JCP Jobcentres.
If you are interested and eligible for this type of support, please contact your JCP Work Coach and click here for more information.
Year 2 – SE17Working Independent Lives Project
After successful delivery for 2019/2020 we are now in the second and final phase of the programme – 2020/2021. We are continuing to run our employment project, funded by L&Q.  The project supports the unemployed; residents already in work but on low pay and those on '0 hours' contracts.  We will be selecting jobs which focus on sectors that provide the best outcomes for our residents. So far we have supported 397 clients with looking for work, with 155 securing employment. 
In addition to help with CVs, Interviews and job applications – residents will benefit from an essential support package including 
40 workshops each year covering the following themes:  
How to manage debt * Life hacks (tips and tricks to make life easier)* Sleep Clinic * Anger Management * Managing Teenagers * Family Dynamics * Eating Healthily * Fit and Well * Confidence and Motivation * Community Engagement * Making Change * Representing Yourself * Digital Help * First Aid * and  Accessing local voluntary/community projects.
Residents that join this project will also benefit from additional Health and Well-being activities through our recent Lottery Funded Reaching Communities Project, which will provide
support to a
ttend Southwark's Free Swim & Gym; Burgess Sports training sessions; Trips to theatre/Museums and Free London Activities; and technical support to accessing online mindfulness tools.  Free refreshments are always provided.
The Project is now in its second quarter before the Christmas break, and is delivered from the Giraffe House, 285 Albany Road SE5 0AH.  If you are interested in any of these activities please contact Janine or Nils on 0207 701 2982. For jobs visit www.se17Working.co.uk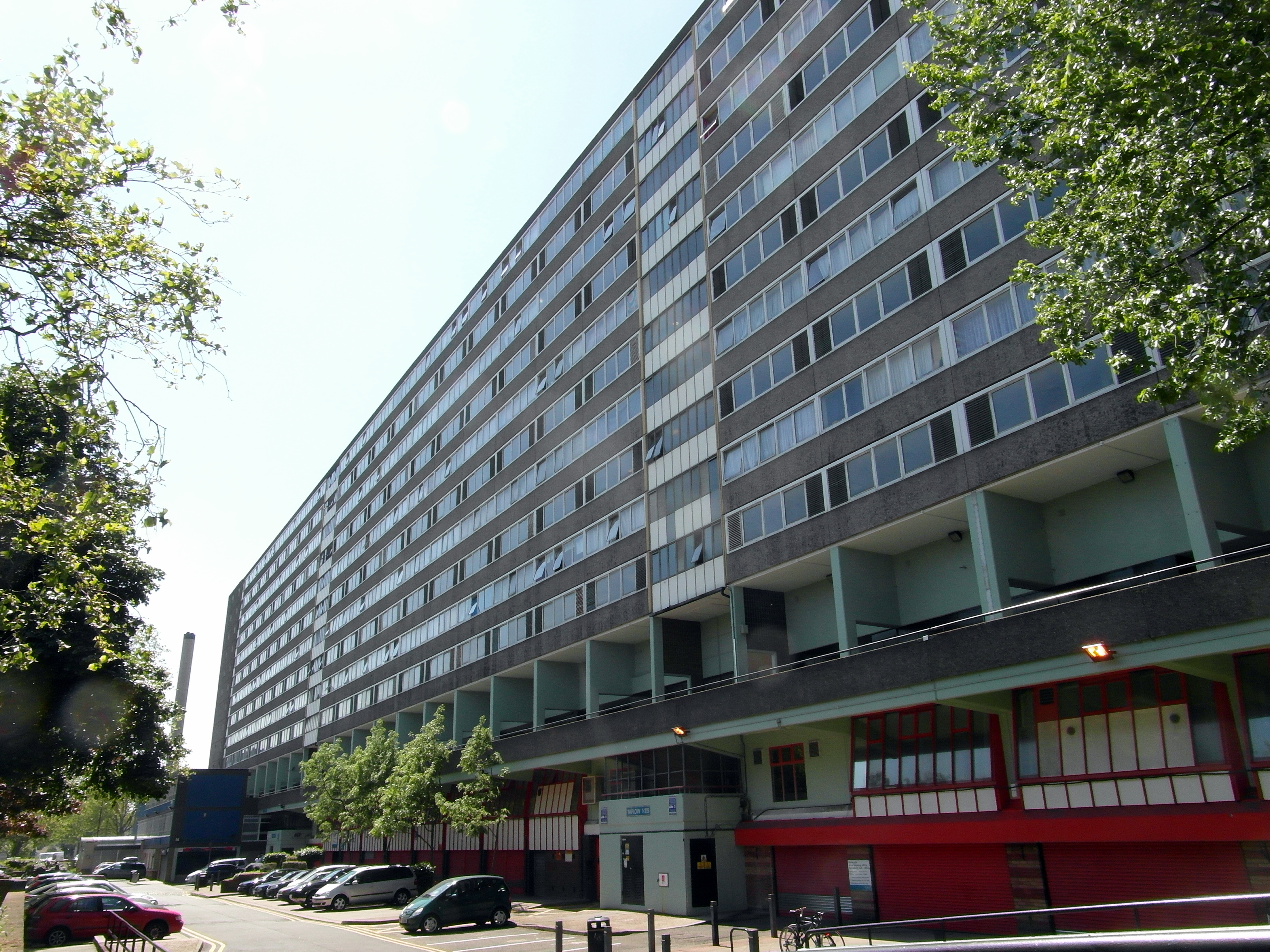 SE17Working: Tackling Unemployment and Inequality
SE17Working is proud to be submitting our paper to the All-Party Parliamentary Group on Housing and Social Mobility. Our paper highlights the disadvantages that BAME jobseekers face in finding and staying in work and what we do to help them overcome these barriers.
The key part of our findings are;
– We believe that the SE17Working programme works because the services we provide incorporate cultural dynamics into the journey into finding employment. With our staff also being from BAME families, we directly identify with our clients and we are able to have a full understanding of their emotional and physical barriers to employment. The team can ask the right questions, respect boundaries, and get to the 'bare bones' of what the client needs. This may be lack or loss of identity, and an inability to articulate feelings without having to lose their pride in the process.
– We provide a culturally-themed hot meal at all workshops we deliver, to align with the BAME culture of eating and engaging, and have a well-equipped and conveniently located training space. This helps to aid retention for the duration of the activity, which in turn maximises learning. It also encourages conversation, helping to build relationships for those who are feeling isolated and giving them strength and stamina to stay on their path into work.
– We are committed to working with lone parents, a key target group in our community We see the economic and emotional effect that family breakdown and absent fathers has on the household. These hard-working women often have a complicated relationship with their sons as a result. Many of our black female clients go into care roles, mainly as there is a high demand and there are always vacancies. This type of work includes long shifts, so they are not always at home to spend time with their children, supporting them with homework, or eating together.
– Welfare to work delivery must be delivered through an established third sector body such as ours, which already has a connection with the community it serves. In our experience this body needs to offer the following to get positive, sustainable results:
         – flexible service delivery in a space close to clients' homes
         – the ability to support with childcare needs
         – recognition of client diversity by employing staff and trainers who reflect it
         – recognition that clients have differing needs and barriers to employment
         – a supportive and safe training environment with hot food and drink
         – incentivising and celebrating client success
         – support for clients whilst in work, including travel bursaries and help to buy work-suitable                  clothing
News Archive:
Dear SE17Working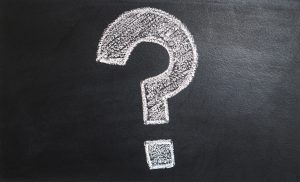 The SE17Working Team is here to help solve problems that you may experience whilst in or out of employment. This page is dedicated to your queries, offering an expert or specialise solution. We look forward to hearing from you…..
Dear SE17Working
I've been offered two jobs and the trouble is they are both very different. One is further out of London and better pay and the other is local with less pay. I don't know what to do? – DS Wendover
Congratulations on your job offers! Very exciting news! Making decisions can be overwhelming especially when it's a new job role. Something to help with making the right choices for you is to making a list of the Pro's (positive) and Con's (negatives). You will be able to see a clear idea of the better option of the two. Start with looking at the Pro's and Con's: Travel, Role, Organisation and Company Benefits.
Sometimes if the job location is nearer to home it can save time and travel expenses.
Look at the table of Pro's and Con's and use this as a template to get you started.

Good Luck!
SE17 Working Team
TWITTER
For further information about local jobs in South London, please feel free to have a look at the Job Centre Plus Twitter feed:

HELPING YOU FIND & KEEP THE JOB YOU WANT
Over the past few years SE17Working, Creation's employment programme, has achieved great things by securing over 700 jobs for local residents. You can see some of their case studies on this site.  
NHG and Creation Trust  will  continue to work together in finding jobs and matching them with residents who are looking for work.  Both organisations will provide in-work support to help people get and keep the jobs they want. Pre- employment training courses will be provided to those who need them.  
Eleanor Purser, Former Director of Regeneration at NHG says;
Together with Southwark Council we are determined that regeneration brings opportunities to residents on the existing neighbourhood and across the borough. We have been delighted to work alongside Creation Trust for the last four years and that through our partnership with the Council we have been able to contribute financially to the essential, but independent support and advocacy they offer to residents affected by the regeneration. Closer working and sharing of best practice in how we can enable jobs and training is an opportunity to deepen our partnership and have the greatest possible positive impact on the well-being and success of residents and their communities in Southwark ."
If you are looking for work contact us now. Email nils@creationtrust.org or janine@creationtrust.org